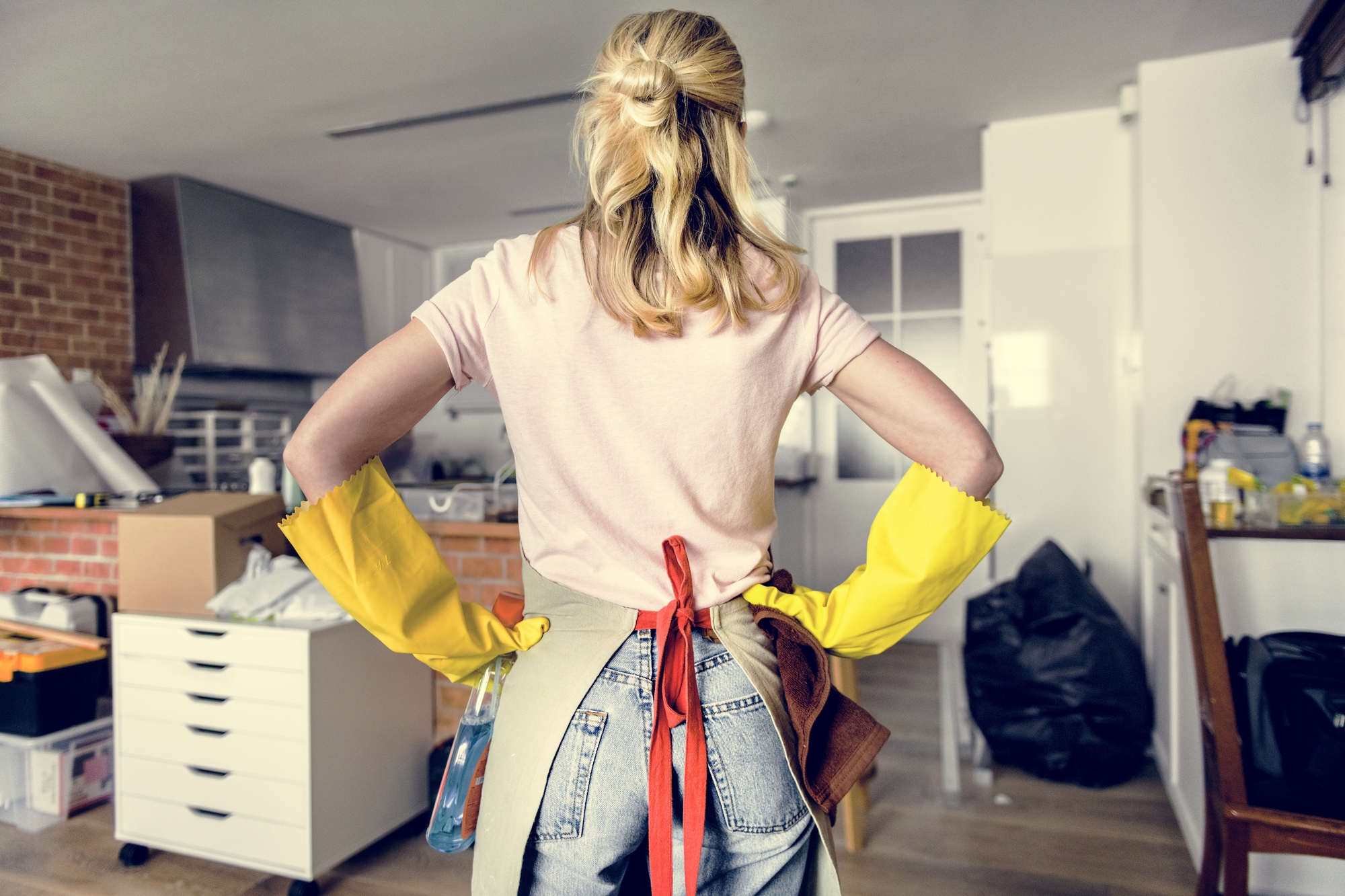 10 Jun

Keep Your Home Clean While Moving
Cleaning While You're Moving Can Be Tough – Keep These Tips in Mind…
Moving is a stressful experience at the best of times. The pandemic has made it so that cleaning is more important than ever, which adds a new layer of stress to this already arduous process. Cleaning your home while moving out has become even more challenging: now you need to worry about completely disinfecting your property before the next residents move in. Are you ready for the next step? Read on – this guide will help you understand how to clean your home when moving out:
The first thing to do is to stock up on the right supplies. Acquiring moving boxes will be one of those jobs that need to be considered as part of your planning process. Maximum Real Estate Exposure has an excellent resource that details where you can get both free and paid boxes.
The next thing you'll need is cleaning supplies. You may need more than the usual haul for a move-out clean because you'll be cleaning areas that were normally covered up by furniture or decorations. With all your belongings moved out of the way, every nook and cranny becomes clear. Thoroughness is essential if you want the new buyers to be happy with their purchase. Make sure you've got the right tools for the job. The supplies you need depend on the surfaces that you're cleaning. Wooden tables and countertops can be cleaned with warm, soapy water. For sinks and faucets, use a powdered bleach product. Glass surfaces need specialized glass cleaners – otherwise, you'll end up with streaky windows. Mopping the floors with a scented cleaner will leave a beautiful and clean smell throughout the house. Keep these supplies on-hand to ensure you're ready to tackle any cleaning challenge.
Once you're ready to start cleaning, begin with the dusting, sweeping, and vacuuming. A surface can't be cleaned if there's already dirt or grime on top of it, so that layer needs to be removed before it can be disinfected. Take out the cobwebs in the corners of the ceiling and window sills. After that, washing surfaces with a wet cloth will be much easier, and so will mopping the floor. And even though windows are see-through, they still need to be cleaned (the next residents will thank you for it). Give the insides and outsides of the windows a good scrub using glass cleaner. Also, remember to change any burned-out light bulbs in the house. The walls of your house may need special attention before they're cleaned if you have hooks, nails, or holes in them. Patch the walls before you clean to save yourself from a big mess.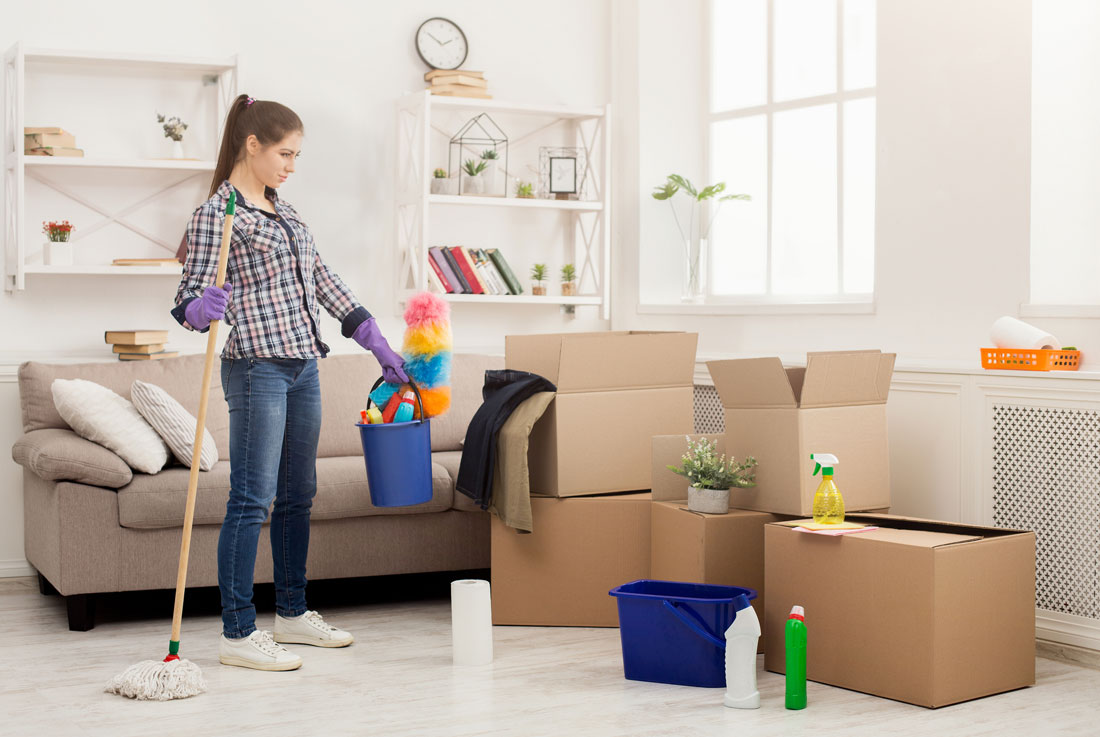 When you're moving out, be considerate of the people who are moving in to take your place. If the new owners have pets or children, you might want to consider using green cleaning products. The owner of Certified Green Cleaning writes, "Our cleaning supplies are safe for children, pets and the environment. Our disinfectant eliminates germs that can spread diseases with the sole use of green products." Green cleaning products are safer for the environment and don't contain harmful chemicals like regular supplies do, but they still kill the germs that spread diseases like COVID-19. Use green cleaning products if the next residents are sensitive to harsh cleaning agents.
The ultimate goal of cleaning is to avoid germs. In places like kitchens and bathrooms, germs are plentiful. These areas need extra attention when you're cleaning. For the kitchen, remember to wipe the tops of your cabinets. You'll also want to scrub the fridge, crown moulding, window sills, and oven (which needs to be self-cleaned and scraped out). The cabinets in the pantry will need a deep clean, too – try to remove all the remaining crumbs and spices from the drawers and shelves. In the bathroom, the toilet has to be scrubbed spotless, including the back. Make sure to clean the sink, shower curtain, and bathtub, too. Leave no soap scum behind! The bathroom is usually the dirtiest room in the house, so try to be thorough.
After your house is completely cleaned, all that's left to do is to move out of it. Taking the time to clean carefully will ensure that it's a safe experience for everyone involved. Ready to tackle the move-out cleaning? Remember to bring the right supplies and prepare to be thorough – the act of moving out creates a mess. If you are prepared, you won't have to worry. And why should you? Moving out is stressful enough. Keep this guide in mind during your move to ensure that it will be a smooth transition.
As for the actual process of relocation from one home to another, call on the local moving experts at Careful Movers! We offer premium residential and commercial moving services and can handle just about any job. Contact our team today to get a free quote on your move today!